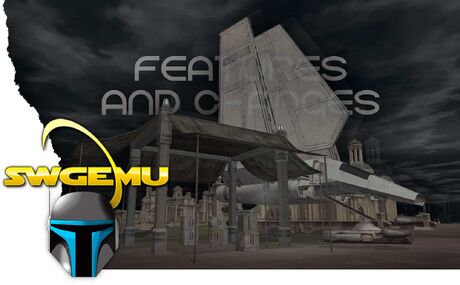 Changes
[
]
General Changes
[
]
Global /invite [Notes]
Vendor listing time raised to 60 days [Notes]
Bazaar Auction credit listing raised from 20k to 30k credits [Notes]
Raises payouts of Entertainer and Scout Missions
Buff NPC with free buffs when creating a new player
Reduced the Heal Aggro from 100% to 66% [Notes]
Lower Decay Rate of Swoop bikes
Lower Spice Downer Attribute Effect to 50%
Spice Revamp
Mounts
[
]
Runspeed of a Mount is a bit faster
Gallop speed duration increased to 5 min, 60 sec cooldown and is faster now, some Creatures have a higher speed than others
Player Cities
[
]
City Player Requirements set to 3, 5, 10,15, 20 
Species Changes:
[
]
Twi'leks have higher secondary action stats limits. [Notes]
Structures
[
]
House storage is lot*250. (2 lots = 500 item storage)
/paymaintenance command subtracts from cash or bank (if cash is empty)
Extend furniture rotation command /rotate roll 1-180 and /rotate reset 1
Harvesters

Increased BER on Harvesters
Increased Hopper Size
Increased Resource Container Size to 1 million
Travel
[
]
Freelance shuttles for instant transport can be found at The Alumn Mines on Lok, Theed and Czerka Village on Dathomir
Shuttle times at Starports reduced to 2 minutes
Veteran Rewards
[
]
Removal of Anti-Decay Kits & 30k Resource Deeds
Combat
[
]
Battle Fatigue
[
]
BF new max Value 1500 [Notes]
BF scales with the max value now more on the effect for healing. If healer and healed creature have both 1500 BF the heal is 92% reduced *max value
BF (shock wounds) have a effect to the accuracy skill
Decay
[
]
Items with 0 Condition are broken and can not be equipped
Stats will no longer work on items with 0 condition [Notes]
Some clothing will decay now (very slowly) during combat
Galactic Civil War
[
]
Raised FP Cap * 2 [Notes]
Changed GCW bonus, faction with planetary control get a 30% discount on faction items 
Rebel's can purchase factional AT-XT from recruiters (AT-ST equivalent) 
New Faction Armors 
Buffed bonus 155 for factional HQ Hospital 
AT-XT spawns at Rebel HQs 
Different GCW turret damage types 
Remove food / drink filling on PvP death 
If you die Overt you have 1% decay on Insured Items, and only 2% on other Items. Filling/Drink is set to 0, Jedi XP Loss is 50% 
Skill Mods
[
]
Creature Knowledge
Melee Defense
Ranged Defense
Hidden Stat Mods
States
[
]
Crafting
[
]
Post-Crafting Color Options
[
]
Nightsister Clothing Set (10 parts)
Mountain Clan Clothing Set (10 parts)
Chitin Armor
Ithorian Defender Armor
Marabi Armor
RIS Armor
Tantel Armor
Ubese Armor
Resources:
[
]
Resources General

Raised Count of random spawned Resources (more Resource spawns for metal, ore, fuel_petrochem_solid, radioactive, gemstone, gas, water, fuel_petrochem_liquid,petrochem_inert
Adjusted the Spawn, lowered spawn chance of Minerals, Gemstones and Radioactive have now more chances to spawn
Reduced Base rate for sampling
Skill Changes
[
]
Profession Changes
[
]
Skill Mod Changes
[
]
Loot Changes
[
]
General
[
]
Raised chance of loot items with stats [Notes]
Raised loot chance of locked containers. [Notes]
Raised Loot chance Dathomir mobs
Raised Loot chance Dantooine - Jantas
Lootable Bubble Tank schematic
After a Bounty Hunter kills a player, the player can set a bounty on the BH [Notes]
Attachments
[
]
Increased CA Loot chance in Junk loot (minimal)
Added minimal loot chance of CA's in loot tables.
Added missing BE experimentation and assembly CA's
Tuskens: Increased CA and AA Loot chance
Maulers (Naboo POI) (minimal): Increased CA and AA Loot chance
Raise minimum value of Attachments [Notes]
Removed useless CA/AA's [Notes]
Added better drop combinations on weapons (Ex: No +Polearm speed on Pistols)
Creatures / NPCs
[
]
Krayt Dragons

100% loot chance [Notes]
Modified Loot groups
Added CA and AA to Loot group
Raised LS Resist 5%
Acklay

Raised Loot chance [Notes]
Chance to drop pearls

Jedi Master
Updated Loot Items
[
]
Aakuan Belt
Aakuan Ring
Nightsister Bicep
Nyax Necklace
Updated Themepark Rewards
[
]
Marauder Armor
Stormtrooper Armor
Grooved Two Handed Sword
Imperial Medallion
Insulated Ubese Armor
Jagged Vibroblade
Lightweight vibro unit
Mabari Armor
Projectile Pistol Barrel
Projectile Rifle barrel
Tuned Weapon Scope
Weapon Scope
Weapon Stock
New Player Content
[
]
Crafting
[
]
Czerka Buffs
[
]
Buffer NPCs are provided for new players.
Doctors can be found in Coronet, Theed and Bestine Med Centers.
Entertainers can be found in Coronet, Theed and Bestine Cantinas.
Content
[
]
Dungeons
[
]
World Bosses
[
]
Server Events
[
]
Disease Event [Notes]

Increased Medical Experience
Disease clouds through Coronet & Theed
Occurs only when triggered by Admin

Undead Event

Undead invading Theed
Undead Themed Loot
Costumes and zombie cloud