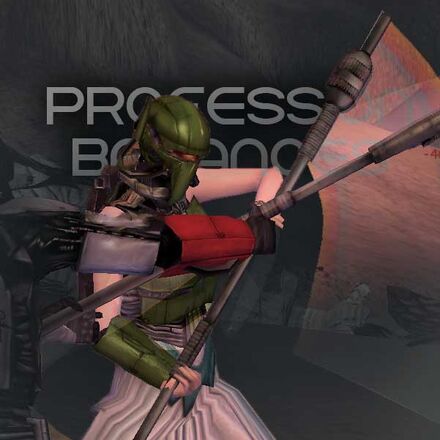 Revelation contains thousands of profession balances, ranging from small quality of life changes, to fixes of things that never worked and major overhauls.
---
Base Professions
Edit
Profession General
Edit
50% reduced credit cost for Base Profession skill training.
Reduced Skill Point cost for Base Professions from 15 to 10.
Lowered the needed skills for repairs
Reduced Base rate for sampling
Decreased XP requirement of the Tier 3 and Tier 4 skills reduced 50% [Notes]
Entertainer
Edit
Player Cantina & Theater Buff Bonus raised from 130 to 150
Entertainer bonus in NPC Cities (Naboo/Corellia/Tatooine) from 140 to 160
Entertainer Range from 10 to 15 (people can watch and listen now in theaters too)
Hard cap for buffs raised from 125 to 160
Marksman
Edit
Point Black Area 1: Increased cone range from 15 to 30 [Notes]
+4 Melee/ +4 Ranged Defence to Carbines 4
Decreased XP requirement of the Tier 3 and Tier 4 skills reduced 50% [Notes]
Skill Mods
Abilities [Notes]

Tend wounds and Tend damage are less effective
Quick Heal - causing more BF but heals a lot more / additional mind too [Notes]

Stimpacks [Notes]
Politician
Edit
Mayors can place Jedi Trainer [Notes]
Cities Requirements set to 3, 5, 10,15, 20 [Notes]
Buff bonus in Cantinas / Hospitals
City Halls can hold 500 Items
Add 2 new City Specs: Both are available on Master Politician

The Health Resort (250k) Combines Entertainer District and Medical Center
Science Center (500k). Combines Sample Rich, Manufacturer and Research Center.

Add improved Job Market to Stronghold Spec
Add Cloning Center to Stronghold spec
Lowered Xp Costs:

Entertainer District
Improve Job Market
Research Center
Clone Lab
Sample Rich

Raised Decorations Per Rank from 10 to 15
Reduced Skillpoints Trapping (1,2,3,4) [Notes]
Reduced Skillpoints Camping (1,2,3,4) [Notes]

Raise Trap Damage, depending on the Trapping Skill
Add Trapping CA
Crafting
Edit
Architect
Edit
Armorsmith
Edit
Droid Engineer
Edit
Merchant
Edit
Merchant shops in major cities (Coronet / Theed / Mos Eisley)
Must have "Place Merchant Tent" skill in order to claim a house.
Reduced Skill point costs
Shipwright
Edit
Weaponsmith
Edit
Polearm Stun 2 does now additional posture change.
Polearm Hit 3: Removed posture change but increased damage
Polearm Hit 2: does now an additional blind
Added polearm toughness 5 to master
Raised Bleeding damage from Action Hit 1 and 2
Raised Damage for Leg Hit 3 and Spin Attack 2 Skills
Polearm area attacks have increased damage
Swordsman
Edit
Teras Kasi Artist
Edit
Advanced Balance 2: Unarmed Toughness reduced from 15 to 9 points
Bounty Hunter
Edit
Abilities
Skill Mods

Lightning Canon 1-4: +5 Melee Defense [Notes]
BH Pistols 1-4: +5 Ranged Defense
Master: Melee Defense +15, Ranged Defense +10, LLC Acc +20, Rifle Acc +15, Pistol Acc +15, Carbine Acc +15, Melee Dmg Mitigation 2
Novice: Melee Dmg Mitigation 1
GCW Skill Block Break

Add blockBreak to BH: Master Box 2 points, Support 2-4 each 1 Point
Carbineer
Edit
Misc

Carbine Skills have now a better Damage, Cone Area and Stats [Notes]

Skills

fullAutoArea1: Raise stateEffectChance 30->45 , dmgMultiplier raised from 1.5 to 1.75, raised coneAngle from 30 to 40 [Notes]
fullAutoArea2: Raise stateEffectChance 30->50/55 , dmgMultiplier raised from 2.0 to 2.5, raised coneAngle from 30 to 40
fullAutoSingle1: Raise stateEffectChance 30->50 , dmgMultiplier raised from 2.0 to 2.75
fullAutoSingle2: Raise stateEffectChance 30->60/75 , dmgMultiplier raised from 3.5 to 3.75
LegShot 1: dmgMultiplier raised from 1 to 1.75
LegShot 2: dmgMultiplier raised from 2 to 2.5
LegShot 3: dmgMultiplier raised from 2 to 3.0
wildshot 1: dmgMultiplier raised from 2.25 to 2.5, add coneattack, raised coneAngle from 0 to 20, Raise stateEffectChance 50->65
wildshot 2: Raise stateEffectChance 50->75

Skill Mods

Added+14 Melee / +10 Ranged defence to Master
Added Melee Damage Mitigation 1 to Master
Added +20 Blind/Dizzy/Stun/Knock down defence to Master
Added +10 Melee defence to Special Abilities 4
Added +6 Melee defence to Special Abilities 3
Added +6 Melee defence to Special Abilities 2
Added +4 Ranged defence to Marksmanship 2
Added +6 Ranged defence to Marksmanship 3
Added +8 Ranged defence to Marksmanship 4
Added +10 Blind Defence to Tactics 1
Added +10 Stun Defence to Tactics 2
Added +10 Knock-down Defence Tactics 3
Added +10 Dizzy Defence to Tactics 4
scatter shot 1 pve Bonus * 1,25 [Notes]
scatter shot 2 pve Bonus * 1,5
Commando
Edit
Weapons
Skill Mods

Added Melee Damage Mitigation 2 to Master Box [Notes]
Added Melee Damage Mitigation 1 to Field Tactics 1
Added Melee Defense + 5 to Field Tactics 3
Added Melee Defense + 5 to Field Tactics 3
Added Knockdown Defense + 5 to Field Tactics 2
Added Knockdown Defense + 5 to Master Box
Added Throw Weapon Accuracy +10 to Master Box
Added Acid Rifle Speed +5 to Master Box
Added Flamethrower Speed +5 to Master Box
Heavy rocket launcher speed +20 and Heavy particle beam accuracy +10, in Tier 1

Block break against Special Heavy Weapons (Flamethrower) is now random (15) +5 [Notes]
Pistoleer
Edit
Raised Bleeding damage from Health Shot 1 and 2
All Pistol Skills have +30 % PVE Damage [Notes]
Rifleman
Edit
Smuggler
Edit
Skill Mods

Misc

Added 10 Points Creature Knowledge total to various skills. [Notes]
Additional Thrown Weapon Accuracy / Speed

Novice

Tame Level +2
Unarmed damage 5, Unarmed Accuracy 5, Unarmed Center of Being 5 [Notes]

Connections 1: defense vs Dizzy 15
Connections 2: defense vs Blind 15
Connections 3: defense vs knockdown 15
Connections 4: defense vs Stun 15
Slicing 1:Pistol Accuracy 5
Slicing 2: Pistol Accuracy 5
Slicing 3: Pistol Accuracy 5
Slicing 4: Pistol Accuracy 5
Dirty Fighting 1: melee defense 3, ranged defense 3
Dirty Fighting 2: melee defense 4, ranged defense 4
Dirty Fighting 3: melee defense 5, ranged defense 5
Dirty Fighting 4: melee defense 8, ranged defense 8
Spice 1: Max pet level 2
Spice 2: Tame Level +2 [Notes]
Spice 3: Max pet level 2
Spice 4: Tame Level +2 [Notes]
Master

Unarmed speed 5
Unarmed damage 5
Unarmed Accuracy 5
Unarmed Center of Being 5
Ranged Damage mitigation 2
Melee Damage mitigation 2
Pistol Accuracy 5
Pistol Aiming 5
Pistol Speed 5 
Dodge 2
Max level pets 4

Abilities
Certifications

Cryban Grenades
Glob Grenades

Spices Revamped (D = Duration, H = Health S = Strength, St = Stamina, A = Action etc.)

Sweetblossum - H:750, S:450, C:450, D:200
Yarrock - M:300, F:300, W:300, D:1200
Pyrepenol - A:750, St:450, Q:450, D:300
Sedative h4B - H:1250, A:1250, M:1250 D:180
Zyopolene Droid - W:1250, D:180
Crash and Burn - A:300, St:300, Q:300, D:1200
Gunjack - H:300, S:300, C:300, D:1200
Thrusterhead - M:750, F:450, W:450, D:300
Booster Blue - H:200, S:200, C:200, A:200, St:200, Q:200, D:600
Bio-Engineer
Edit
Reduced Skillpoints Novice / 6 , Tier 1/ 4, Tier 2/ 3, Tier 3/ 2, Tier 4 /1, Master / 1
DNA Changes

Raised Min Values on DNA Templates [Notes]
Generic DNA can now be experimented to higher values
Creature Handler
Edit
Pet Stimpacks heal for more damage. [Notes]
Pet Stimpacks heal some battle fatigue
Skill Mods:
Pets

Banthas have now a more HAM and 15% Armor
Razor Cats have 20% Armor and higher Damage
Rancors have higher Stats

Abilities

Embolden Pet

Raise duration to 4 min
Raise Buff from 15% to 50%

Enrage pets

Raise duration from 1 min to 2 min
Dmg Bonus Raised from 15% to 30%
Reduced Skill point costs
Camps: [Notes]

Require More Resources
Additional Crafting Stations
Additional Mission Terminals
Larger Camp Radius
Higher buff values for Scout/Ranger Camps: (Note: a hospital/cantina has 150 points) [Notes]

scout_camp_s0: private_medical_rating 60 => 70
scout_camp_s1: private_medical_rating 65 => 80
scout_camp_s2: private_medical_rating 70 => 90
scout_camp_s3: private_medical_rating 80 => 110, private_buff_mind 100 => 110
scout_camp_s4: private_medical_rating 90 => 135, private_buff_mind 100 => 135
scout_camp_s5: private_medical_rating 90 => 145, private_buff_mind 100 => 145

Harvesting

Creatures give more resources from harvesting [Notes]
Endor:

Lantern Birds on Endor drop avian meat

Lok:

Kreetles spawn on Lok and drop Insect Meat
All monsters on Lok drop more milk, hide, meat and bones

Fishing

Increased fish from filet and fish sizes. [Notes]

Traps: [Notes]

Do more damage
Crafting requires more resources
Range increased

Skill Mods

Camping 1-4: Tame Level +2 [Notes]
Master: Tame Level +4 [Notes]
Tracking 1-4 raised melee defense from 2 to 4, add knockdown_defense=4 [Notes]
Trapping 1-4: +2 melee defense per skill
Exploration T1-T4: added ranged defense 4
Master added: Knockdown Defense +5, Dizzy Defense +15, Melee Damage Mitigation +1 and Ranged Damage Mitigation 1

Abilities:

Conceal duration is now much longer
Squad Leader
Edit
Tactics 1-4: +5 Ranged Defense [Notes]
Mobility 1-4: +5 Melee Defense
Master: Melee Defense, Ranged DMG Mitigation 2, Defense Dizzy +15, Defense Knockdown +15
Formup Timers reduced
Boostmorale heals additional 75 force and 200 mind
Combat Medic
Edit
Abilities

Mind Heal BF and Wounds reduced
MindHeal - Increased amount of mind healed [Notes]

Skill Mods

Support T1-T4:

Knockdown Defense +4
Dizzy Defense +4
Melee Defense +2
Ranged Defense +2

Master: 

Knockdown Defense +5
Dizzy Defense +5
Melee Defense +5
Ranged Defense +5

Diseases

You can no longer apply Disease on Creatures if they already have 20% wounds of their max ham [Notes]

Crafting

Action and Health Poison Packs require more resources
Health and Action Poison can receive more experimentation
Raised buff values for Player guild halls: [Notes]

private_medical_rating 100 => 125

Reduced time to apply Buffs [Notes]
Melee Mitigation 1 at Master Doctor
Disease Enhancement are raised in the duration (crafting) [Notes]
Poison Enhancement are raised in the duration (crafting)
Doctor Buffs can be applied at any location. Droids, Houses, Cities gives Bonus. [Notes]
Reduced Doctor Buffs for Secondary Stats Str, Con, Stam, Qui
Entertainer
Edit
Player have same buff values as cantinas [Notes]
Raised buff values for Player guild halls:

private_buff_mind 100 => 125

Buff Duration raised to 2:50 [Notes]
Image Designer
Edit
Reduced Skill point costs
Musician
Edit
Jedi General
Edit
Unlockable via Czerka Outpost questline.
Lootable Jedi CA's [Notes]
New Visibility Calculations [Notes]
All Jedi skills require a Lightsaber to be equipped.
Jedi Robes Decay [Notes]
Saber Block / Dodge:

On a successful block, Jedi may take up to 10% of blocked damage. [Notes]
Damage received after a successful block is reduced 10% (Patch notes are slightly cryptic, not sure if previous change was removed or not?)

Holocrons Restore Force (2 hour cooldown) [Notes]
Decreased Novice XP Requirements from 20k to 15k [Notes]
Decreased T1 XP Requirements for T1 Skills from 200k to 100k
Lightsaber & Force attacks do 7% extra PvP damage [Notes]
Force Defense
Edit
Master Defender Box now has a taunt skill
Skill Mods

Force Melee Defense 1-4: +1 Jedi Toughness [Notes]
4xxx: +Melee Mitigation 1 [Notes]
x4xx: +Ranged Mitigation 1
Force Defense 2-4: +1 Jedi Toughness
xxx2: Jedi State Defence from 5 to 6 points
xxx3: Jedi State Defence from 10 to 12 points
xxx4: Jedi State Defence from 15 to 17 points.
Master:

Ranged & Melee Mitigation 2
Jedi Toughness from 8 to 12 points
Melee Defence from 25 to 30
Jedi State Defence from 15 to 20

FC of Avoid Incap are dependent on BF [Notes]
Avoid Incap gives 100 BF
Force Enhancement
Edit
Added new skill mod Enhancer Knowledge [Notes]
Force Resist {Disease, Poison, Bleeding, States} will now be increased by enhancer knowledge. Modifier calculations: 1.0 + (enhancer_knowledge / 150)
Increase Force Meditate effectiveness based on enhancer knowledge: Modifier calculations: 1.0 + (enhancer_knowledge / 100)
Reduce Force Armor {1, 2} costs based on enhancer knowledge: Modifier calculations: 1.0 - (enhancer_knowledge / 150)
Raised value for Transfer Force to 300 [Notes]
Changed force meditate modifier from 3 to 5
Lowered cost of Force Armor [Notes]
Force Healing
Edit
Added new skill mod Skill Healer Knowledge [Notes]
Jedi heals will be faster depending on amount of boxes spent in healing trees based on the Healing Knowledge skill: Speed modifier calculation: 1.0 - ( jedi_healing_knowledge / 115)
Jedi Stop Bleeding value raised from 90 to 150
Jedi Stop Bleeding can be used on self
Heal BF can be used on targets
Moved wound heals before damage heals
Jedi Heals depend on target's Battle Fatigue [Notes]
+4 Jedi Toughness to Healer Master
+2 Ranged & Melee defense for each box in debuff tier
Force Powers
Edit
Force Powers on Non Players: Dmg * 2.5
Force Lightning

Force Lightning1Cone : swgemu: dmg 400, fc 125, speed 4 -> rev mindmg 700 max - dmg 1000, fc 100, speed 3.5
Force Lightning2Cone : swgemu: dmg 800, fc 250, speed 4 -> rev mindmg 1000 max - dmg 1800, fc 175, speed 4.0
ForceLigthningSingle1: swgemu: dmg 750, fc 75, speed 4.0 -> rev mindmg 800 maxdmg 1250, speed 3.5, fc 75
ForceLigthningSingle2: swgemu: dmg 1500, fc 150, speed 4.0 -> rev mindmg 1500 maxdmg 2000, speed 3.5, fc 125

Force Choke raised Damage min 400, max 600, lower fc to 300
Force intimidate1: FC from 300 -> 200
Force intimidate2: FC from 500 -> 350
Force Weaken1: Debuffs Enemy for -600 instead of -300
Force Weaken2: Debuffs Enemy for -1000 instead of -600
Force Weaken vs NonPlayer Debuffs * 3.0 higher
+4 Jedi Toughness to Powers Master [Notes]
+2 Ranged & Melee defense for each box in debuff tier
Force Throw applies Blind
Mind Blast time reduced to 2.5 from 3.5 seconds
Lightsaber
Edit
Master: Melee Dmg Mitigation 1 [Notes]
Master: Ranged Dmg Mitigation 1
Block Break: All Attacks have now a additional chance to ignore the Block common weapons 0-7%, heavy weapons/Mines 0-10%, Flamethrower 0-14% (it is every hit a random roll how high the chance is and a second roll checks if the chance is hit.
Saber Throw:

Saber Throw 1 pve Bonus * 1,20
Saber Throw 2 pve Bonus * 1,30
Saber Throw 3 pve Bonus * 1,50

Saber2h Sweep is an Area Attack with small range [Notes]